How to Have a Sustainable Halloween with Your Kids
Halloween is upon us. Next week our little ones will dress in their costumes and participate in activities, trick-or-treat, and - hopefully - smile for all of our photos. We know this holiday can be fun for both kids and adults, but we also know this holiday can sometimes lead to excess waste, from disposable costumes to single-use decorations and mountains of candy wrappers. 
But fear not! With a few eco-conscious choices, you can have a sustainable Halloween with your little kids that's both fun and responsible. We will share some tips on what to do the week of Halloween to keep the holiday eco-friendly and how to reduce waste responsibly after the holiday. And do not worry if you haven't started thinking about the holiday yet, you are not alone AND we've got you covered. 
Green Costumes
If you haven't rented your little one's costume yet from Rent a Romper, not to worry. Instead of buying brand new costumes that may be worn just once, consider:
Your local Facebook Marketplace or Buy Nothing Groups to see if there are costumes available last minute. 

Explore local thrift stores for gently used costumes. You'll save money and reduce waste.

DIY! Get creative and make your own costumes using items you already have at home. Repurpose old clothes, sheets, or cardboard to create unique and eco-friendly costumes.

Ask Friends or Neighbors. If you have friends with older children, see if they have costumes they are not using from prior years. This not only saves money but also extends the life of costumes.
Eco-Friendly Decorations
Decorating your home for Halloween can be a fun family activity and doesn't require a trip to the store or online shop to make it easy and sustainable.
Use Natural Materials: Look outside for natural materials to use as decorations. Incorporating

leaves

, sticks, and naturally created spider webs all makes for a spooky fall feel. Bonus, these materials can be composted after the holiday.

DIY your own

Milk-O-Lanterns

: Create a fun project with the little ones (or just for you) and repurpose some milk jugs for Halloween fun. This is one trick that makes plastic a little less scary. :)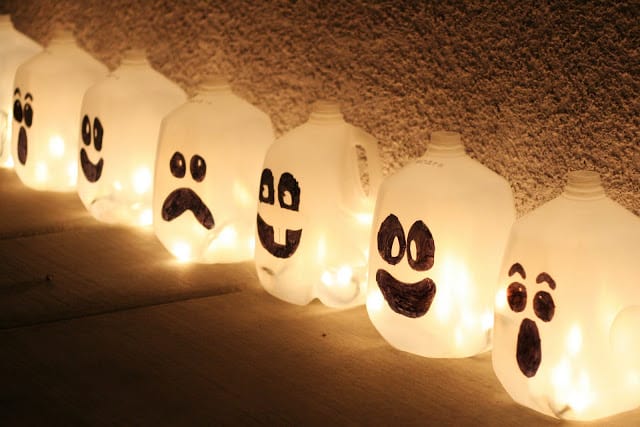 Post-Holiday Care
After the Halloween festivities, you're likely to have more candy than your kids can consume in one sitting. Here's what to do:
Preserve and Reuse: Store costumes, decorations, and accessories carefully to prevent damage and extend their lifespan. This reduces the need to buy new items each year, saving money and reducing waste.
Costume Patrol: Following the holiday, your child may not be interested in wearing their costume again. If not, consider sending your costume to Rent a Romper to extend the life of the costume, share with another family, or resell the item to your local thrift store. If the item still fits your child, keep it accessible for them to use for "imaginative play."
Candy Patrol: If you are like me, you might limit your child's intake by taking a daily piece of candy for yourself. But if you are looking for more creative ways to save the candy waste, you have a few options: 
Donate Excess Candy: Many organizations collect excess Halloween candy to send to troops overseas or distribute to those in need. Check if there are local drop-off locations for these donations.

Bake with the Candies: There are many ways you can use chocolates or Halloween candies in

cakes

, cookies and ice cream treats after the holiday. If you are already on a sugar high though, you may want to preserve the treats for another time (think hot cocoa toppings on New Years Eve).

Freeze Candies for Future Use: Freezing candy is a great way to extend its shelf life and preserve it for future use in recipes, desserts, or even as a special treat throughout the year. Frozen candy pieces can be used for ingredients in cookies, trail mix, milkshakes, or as ice cream toppings throughout the year. Here's how you can do it:
Prepare the Candy: First, sort and cut up the Halloween candy into smaller, manageable pieces. This is especially useful for candies like chocolate bars, which can be chopped into small chunks or bite-sized pieces.
Separate by Type: If you have different types of candy, consider separating them into categories. For example, separate chocolates from gummies or hard candies to make it easier to use them in various recipes.
Store in the Freezer: Place the cut-up candy pieces in airtight containers or resealable plastic bags. It's essential to ensure they are well sealed to prevent moisture from getting in and causing the candy to become sticky or clump together. Put the containers or bags in the freezer. Candy can be stored in the freezer for several months, and it will remain safe to eat beyond that period. However, its quality may degrade over time.
Halloween can be both enjoyable and eco-conscious with a little planning and creativity. By making sustainable choices when it comes to costumes, decorations, and candy, you can teach your little ones the importance of responsible living while having a spooktacular time. Let's strive for a Halloween that's not only filled with treats, but is also kind to our planet.